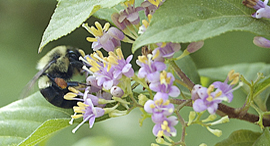 Providing information about issues relevant to Silent Spring and critical today.
Current Issues & Insights
Colorful blooms (purple, deep red, yellow, orange and pale pink) are flourishing in our Green Legacy Garden at midsummer
(July 27, 2016)
Click here for more about them and their popularity with visiting bees, butterflies and birds
View From Rachel's Window – July 2016:
Caring Individuals As Guardians of California Condors, America's Largest Birds
Work at Protecting Them from Human-Generated Hazards
A Garden is Dedicated to Rachel Carson on Her Birthday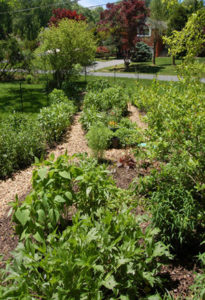 May 27, 2016: Rachel Carson was born on this day in 1907. It is also the day chosen for dedicating a Green Legacy Garden intended as a safe habitat for plants, pollinators and feathered visitors as well as a tribute to Rachel Carson and the others who helped bring it about. Ground breaking took place in 2015 and planning started even earlier.
In accord with Carson's preference for avoidance of hazardous chemical pesticides, the Garden is a chemical pesticide-free natural habitat.
Most plants in the Green Legacy Garden are native to the Mid-Atlantic area, where it is located. They can be counted on to provide flowers that benefit wildlife and bloom from early Spring thru late Fall.
It is not too early for those who admire Rachel Carson to start putting in place plans for a Rachel Carson Tribute Garden to be dedicated on May 27, 2017 which will be the 110th year since her birth.
Green Legacy Garden Plants in Full bloom on this day (5-27-16) include: False blue indigo (Baptisia australis), Foxglove penstemon (Penstemon digitalis) Salvia nemorosa "Caradonna", Woodland sedum (Sedum ternatum), Blue-eyed grass (Sisyrinchium angustifolium), and Heartleaf foamflower (Tiarella cordifolia)
More about blooms in the Green Legacy Garden in the months to come
______________________________________________________________
---
A Herbicide's Impact on Bees, Blooms and Beyond
The herbicide 2,4-D widely-used in combination products is designed to kill broad-leaf plants. It can also adversely impact animals as our accompanying report details. Due to the importance of pollinators and their declining numbers, 2,4-D's potential hazard to bees deserves urgent attention.
We recommend that regulators give prompt, serious emphasis to profiling how exposure to 2,4-D alone and in combination with other herbicides could adversely impact bees. In view of the recognized hazards to various non-target species from 2,4-D we strongly recommend avoiding use of this herbicide in areas designated for people, pollinators, desirable plants and wildlife.
Click here for complete report.
______________________________________________________________
Unveiling of Panel Honoring Rachel Carson at Glover Archbold National Park in Washington, DC
A joyous celebration of Rachel Carson under the towering Tulip Poplars and Oaks on September 27, 2016.

The attractive panel is situated on a grassy slope near the Park's trail access on the south side of Reservoir Road. It provides information on the historical importance of Rachel Carson through her book Silent Spring, a groundbreaking work released in 1962 that warned a then unknowing citizenry about problems with chemical pesticides.
Our new brochure:
THE RACHEL CARSON SENSE OF WONDER/SENSE OF THE WILD CONTEST for 2016 is now available
It contains:
The new deadline for entries
Recent Winning Entries
Suggested Projects for Contest Entries

2016 Rachel Carson Open House "Second Look"
Our "Second Look" at this memorable event gives new details not covered in our "First Look" as well as recommendations for action that we all can take to help birds.

2016 RACHEL CARSON
OPEN HOUSE – FIRST LOOK
The 2016 Rachel Carson Open House took place on several different levels. Indoors there were informative presentations by 3 outstanding speakers, poetry readings and a music performance in one room, a table for creative intergenerational artwork was located in another, and there was the new historic exhibit in the corner of Rachel Carson's study bearing a striking resemblance to photos taken in the 1960s. Organic refreshments were available in the dining room and kitchen. Outdoors there was a native plant sale and the new pollinator garden to draw visitors' attention. Click here for full article.

Announcing the 2016 Rachel Carson Intergenerational Sense of Wonder/Sense of the Wild Contest!
Entries can focus on either of two themes: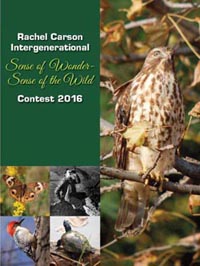 Show Your Sense of Wonder. Entries should express the Sense of Wonder your intergenerational team feels for the beauty of natural surroundings, as near as your backyard or as far away as the night sky.
Show Your Sense of Wonder/Sense of the Wild. Entries should express your intergenerational team's appreciation of and wonder for a natural (wild) plant or animal in its own ecosystem performing a benefit for a person, group, society, or the Earth. Such beneficial activities make possible the survival of their species as well as our own.
Winners: Winners in each of the 6 "Sense of Wonder" categories and the 6 "Sense of Wonder/Sense of the Wild" categories will receive an award from the Rachel Carson Landmark Alliance, and some of the submissions will be featured on the RCLA website. Winners will be announced on December 1, 2016.
Deadline for entries is November 1, 2016.
For full details about this contest, including specific entry rules, click here.
Previous Rachel Carson Intergenerational Sense of Wonder Contest Winners
For complete Sense of Wonder/Sense of the Wild Contest Winners 2015 click here
For complete Sense of Wonder Contest Winners 2014 click here
Experiencing Spring: Then and Now
2015 Rachel Carson Open House
Here's a great way to remember Rachel Carson on her birthday and beyond.
RCLA Native Plant Mini-List
May 2015
Listing of some of many plants native to the Mid-Atlantic area, which when in bloom, provide nectar and pollen to insects. Some of them also host plants to the larvae of butterflies and other insects.
Make Your Mark—Take Action
"The more clearly we can focus our attention on the
wonders and realities of the universe about us,
the less taste we shall have for destruction."
—Rachel Carson
• • •