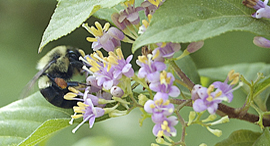 Providing information about issues relevant to Silent Spring and critical today.
Pollinator Garden Observations: August 2019
On the Carson House grounds close by the site where Silent Spring was written there is now a pesticide-free spot frequented regularly during late summer by clouds of butterflies, solitary native bees, other beneficial insects, as well as catbirds, wrens, and goldfinch.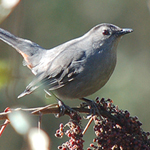 This Pollinator Garden with a growing season from April through October, offers a succession of bird/butterfly/bee-friendly native plants that contribute nectar, pollen, seeds, berries, and habitat for our special wild guests. It is organically-maintained and encircled by a low fence to exclude predators and browsers.
For details about the amazing number of wild winged visitors and which flowers they favored in late summer 2019 click here.
• • • • •
Information

 for Participants in the 

2

0

1

9 Rachel Carson

Intergenerational Sense of Wonder

/

Sense of the Wild Contest
NOTE: Contest requirements are unchanged from those of 2018
Click here for furthur information
• • • • •
For Rachel Carson's Birthday May 27, 2019
A Remembrance
From Pesticide Applications in a Maryland County (in 1959 and 2019)
To the Planet-Wide Dual Crises Facing Us Today —
Rachel Carson's Words Have Resonance
• • • • •
A Sampling of Winning Entries with the "Sense of Wonder" Theme from the 2018 Rachel Carson Intergenerational Contest
In her 5th book, The Sense of Wonder, Rachel Carson wrote that she wished for every child, "a sense of wonder…reflecting the joy, excitement and mystery of the [natural] world we live in…and the companionship of at least one adult who can share it…"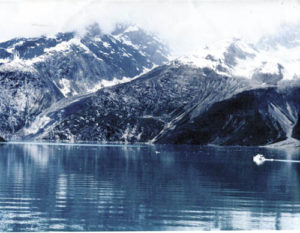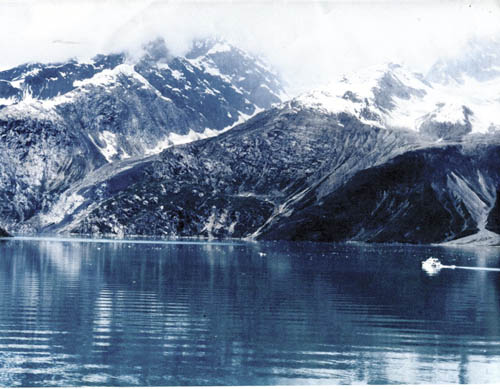 As Rachel Carson pointed out, the "sense of wonder" of older individuals (parents, grandparents, teachers) can encourage, educate and enrich the experiences of the young. At the same time, the enthusiasm for nature in the young can enable older participants to appreciate and re-connect with familiar experiences by seeing them through fresh, eager eyes.
Here are 4 award-winning "sense of wonder" theme entries from our 2018 Contest. These were created by intergenerational teams, and show imaginative writing, sensory detail, and strong imagery. They are
"In My Forest," (A joyful poetic celebration of Nature's power to liberate the spirit.)
"The Rainbow of Life," (Enchanting and life-affirming – a rhapsody of wonder.)
"one small step into the woods, one giant leap towards nature," (A heartwarming story of a teen's unexpected benefit from a camping trip with his grandfather.)
"The Wonders of Our World," (A powerful description of the immense awe that comes with experiencing Alaska's Glacier Bay for the first time.)
TO VIEW THE COMPLETE TEXT FOR ALL FOUR ENTRIES, CLICK HERE!
• • • • •
CONGRATULATIONS TO
RCLA's WINNERS
of the 2018
RACHEL CARSON INTERGENERATIONAL
SENSE of WONDER /
SENSE of the WILD CONTEST
The winners are presented in 3 groups. I. USA ENTRIES, II. INTERNATIONAL ENTRIES, III. SPECIAL RECOGNITION ENTRIES.
Click here for full listing of winning entries.
• • • • •
Report on the 2018 Rachel Carson Open House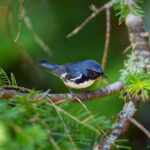 On May 5, 2018 the annual Rachel Carson Open House was held at her former home, the birthplace of Silent Spring — a National Historic Landmark Site.
For those not at the 2018 Open House we offer a report of the event, in two installments. Part 1 is an account of Dr. Christopher J. Whelan's talk, "Why Birds Matter," (see "Introduction" and link below). This is followed by "RCLA's Addendum: Avian Ecosystem Services in 2018 and Actions For Birds."
Part 2, available soon, will include details on event features as well as our account of Michele Colopy's talk, "The Native Bee Advantage."
Introduction to "Why Birds Matter"
In the last chapter of her book Silent Spring, published in 1962 Rachel Carson gave examples of insects, bacteria, viruses and mammals as providing effective biological control of pest insects and therefore as alternatives to the use of chemical pesticides.
In his 2018 presentation Dr. Whelan gave examples of birds as "effective and resistance-proof biological insecticides." He further stated that: "Birds can control insect pests in agricultural ecosystems, precluding the use of harmful pesticides."
The above observations and more by Dr. Christopher Whelan are found in RCLA's account of his 2018 Open House presentation. Click here for full text.
•  •  •
RCLA ACTION ALERT
Migratory Birds At Risk From A Preventable Death Threat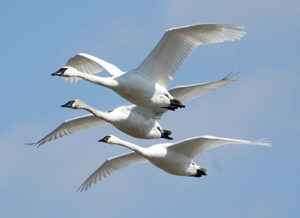 Three neighboring nations (US, Canada and Mexico) created a way to protect the birds of North America from human-generated threats under the 1918 Migratory Bird Treaty Act (MBTA).   Since the 1970s all U.S. administrations have enforced the MBTA. Now in 2018, however, our migratory birds appear to be threatened with death from man-made industrial hazards. Why? Trump Administration appointees recently eliminated a major, bird-protective provision of the MBTA. They cancelled corporate liability (enforced by fines) for bird killings that unintentionally accompany certain industry-related hazards. Such threats include open industrial oil waste pits that could kill over a million birds per year. This damage is largely preventable by covering the oil waste pits with netting to keep birds from landing. Previous administrations using the MBTA as leverage had successfully negotiated net covers for waste pits with industry. Without legal penalties and fines for companies that fail to adopt basic safety steps — bird deaths will inevitably rise. Authorizing conditions known to cause avian suffering and death clearly violates the spirit of the MBTA and contributes to depriving our nation of a valuable natural asset and source of ecosystem services to the public. Friends of birds who want more details and suggested ways to help, can click here for particulars.
•  •  •
Rachel Carson
Birthday Message
May 27, 2018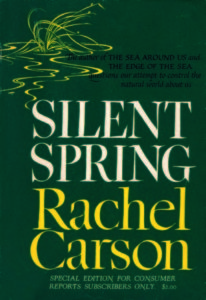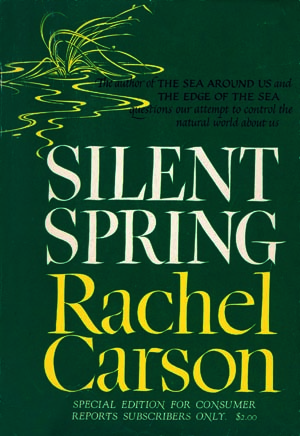 Rachel Carson's birthday on Sunday May 27, 2018 comes during a time when a war on the environment and human health is being pursued by the Administrator of the US Environmental Protection Agency (EPA).  It is noteworthy that historians attribute this Agency's founding in no small measure to the influence of Rachel Carson and her book, Silent Spring.
Since our nation appears to be going backward from protecting the health of American citizens and the environment to an earlier time possibly even before the EPA existed, it seems instructive to consider similarities between then and now as well as a recommendation from Rachel Carson.
From the mid 1940s until 1970, an apparent conflict of interest existed with respect to regulation of chemical pesticides by the US Department of Agriculture (USDA) administrators.  During this period the USDA was responsible for both promoting and regulating pest control agents such as DDT, dieldrin, chlordane, parathion, etc. This conflict of interest condition resulted in inadequate protection of public health and the environment from pesticides' hazards. Various dangers existing under the pre-EPA regulatory arrangement were noted in Silent Spring. In 1970 the USEPA was founded and given responsibility for pesticide regulation (not promotion) as well as other regulatory roles.
Under present EPA Administrator Pruitt an aggressive deregulatory push apparently intended to benefit the regulated industry has been taking place leading to a current conflict of interest -type situation.
More actions are anticipated in the future as Administrator Pruitt tilts the balance toward significantly decreasing the costs to industry and away from enforcing USEPA regulations intended to protect the environment and human health.
Rachel Carson's recommendation to those who would endeavor to protect human health and the planet is taken from her publication, "A New Chapter to Silent Spring:"
We must remain vigilant, we must continue to challenge and to question…As you listen to the present controversies [in 2018 concerning pesticides, climate change, regulatory actions, GMOs, etc]…ask yourself'—Who speaks?—And Why?
For details about Rachel Carson's House where she wrote Silent Spring, click here
•  •  •
Report on RCLA Intergenerational Bird Walk around Cash Lake at Patuxent Research Refuge
Introduction
On Sunday, November 5th the RCLA Intergenerational Bird Walk took place as scheduled at the National Wildlife Visitor Center section of the historic Patuxent Research Refuge, an area established in 1936 by President Roosevelt to conduct wildlife research and to serve as a refuge for birds and other wild creatures.
We were hoping to see many year-round resident birds as well as a number of winter migrants at the beautiful, protected, natural area around Cash Lake. The forest with its stunning fall colors beckoned through the misty light rainfall as we took to the trail. The steady light rain had not been previously predicted. This no doubt prevented participation of several others we had been expecting to join us. (This Sunday was actually the alternative "rain date" for the walk which had been planned for the previous week).
Proceeding around the lake, our little band of birders spent the next 2 hours enthralled by an unexpected treasure trove of avian species (27 total identified). These birds were calling, singing, flying, perching, diving and feeding as we looked on.
We observed and appreciated a number of remarkable bird species that Sunday morning, making our walk at the Patuxent Research Refuge's Cash Lake site a most memorable experience!
For details about the Bird Walk and our list of species click here
• • • • •
A Late Summer Place for Wonder: The Carson House Pollinator Garden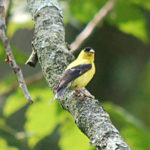 In 1958 Rachel Carson began gathering material on chemical pesticides for what became her renowned Silent Spring. She took precious time from her work to observe the nature she loved through the wide windows of her Berwick Road study. In contemplating how best to approach the task that lay before her Carson wrote to a friend, "…I think there is still a place for wonder."
This year on the grounds of her home on Berwick Road as a living tribute to Carson and her life-long high regard for nature, there is a two-year old pollinator garden consisting primarily of perennials native to the region. It offers food, water and a pesticide-free sanctuary for some of our most imperiled insects. It attracts pollinators, birds and beneficial insects and can evoke a sense of wonder in those human observers who walk its pathways. The full report identifies plants blooming in late summer and which of them are most favored by various visiting pollinators.
We hope that in the months to come there will be times of wonder and special places for wonder reflecting Carson's vision and message in the busy lives of each of our RCLA friends and supporters.
• • • • •
Celebrate Rachel Carson (May 27, 1907-April 14, 1964) During Her 110th Birth Year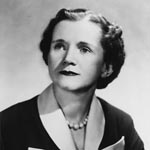 Rachel Carson's 110th birthday anniversary this year finds more members of the public showing concerns about environmental health and the future of life on earth. The unease of a great many Americans reflects plans by the current administration to reduce funds for environmental protection and scientific research as well as to relinquish protection for certain wild lands currently shielded from natural resource exploitation. Many concerned citizens no longer feel comfortable trusting in "so-called authorities" to take care of things. It seems like a good time to invoke Rachel Carson's prescient 1962 observation, "A sense of personal responsibility is what we desperately need." ("The Gentle Storm Center," Life Magazine, 10-12-62).
• • • • •
Unveiling of Panel Honoring Rachel Carson at Glover Archbold National Park in Washington, DC
A joyous celebration of Rachel Carson under the towering Tulip Poplars and Oaks on September 27, 2016.
The attractive panel is situated on a grassy slope near the Park's trail access on the south side of Reservoir Road. It provides information on the historical importance of Rachel Carson through her book Silent Spring, a groundbreaking work released in 1962 that warned a then unknowing citizenry about problems with chemical pesticides.
• • • • •
Make Your Mark—Take Action
"The more clearly we can focus our attention on the
wonders and realities of the universe about us,
the less taste we shall have for destruction."
—Rachel Carson
• • •