Winning Entries from the 2014 Rachel Carson Intergenerational Sense of Wonder Contest
Background:
Starting in 2007, the Rachel Carson Intergenerational Sense of Wonder Contest came into being at the United States Environmental Protection Agency (EPA). Its purpose – to inspire members of different generations to join forces as an intergenerational team and "to describe a corner of the natural world that embodies a sense of wonder," through poetry, essay, graphic art, photography, music, or dance. "This creative expression contest grew in its reach and breadth by popular demand. Entries came from across the globe and in an array of shapes and media." (Kathy Sykes, EPA Project Director)
In 2013 EPA decided to discontinue the Rachel Carson Intergenerational Sense of Wonder Contest without explanation. Rachel Carson Landmark Alliance (RCLA), newly formed at that time, upon learning of the EPA plan to end the Contest, requested permission to assume sponsorship of the Contest. EPA gave its permission for RCLA to take over the Contest.
EPA also forwarded to RCLA entries for the Contest that had been received in 2014, from people unaware that the Contest had been discontinued by EPA. RCLA assembled a panel of experts to assist with evaluating the entries. From this group of entries, three winners were chosen by RCLA for 2014 in accord with EPA standards: one in Graphic Arts, and two in Poetry. They appear below, accompanied by RCLA comments:
Note: Starting in 2015, RCLA expanded the Contest scope from "Sense of Wonder" to "Sense of Wonder/Sense of the Wild. [Click here for 2015 Contest Winners.] [Click here for 2016 Contest rules]
Congratulations to the winning teams for their exceptional entries in the 2014 Rachel Carson Intergenerational Sense of Wonder Contest:
Graphic Arts Painting: "The Red Fox," by Matthew, age 15 and Mary, age 47.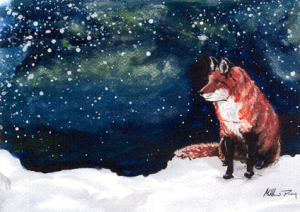 This evocative painting of a red fox traveling out on a wintery night was inspired by a brief view of an actual red fox, captured in the sweep of the headlights of the artist's family car as they were driving along a narrow country lane in England. As described by Matthew, "It stopped in the headlights, gave us a quick glance and then continued on its way. This experience has always stayed with me. Making this painting reminded me of this experience and how incredibly beautiful nature is, if you can take the time to admire it."
The painting shows Matthew's deep passion for both painting and nature. Mary, Matthew's mother helped him select the topic and supplied him with the watercolor paints "which she had used as a child growing up."
Poetry: "Backyard Wonderland" by Anastasia, age18 and Elizabeth, age 31.
Ana, working with her teacher, Elizabeth, provides us with a description of how the colors, sights, sounds and smells of nature transform a pleasant spring morning spent in the author's backyard into a vision of utopia. Ana writes, "It was special working [on] an intergenerational team because I was able to see how someone older than me views my poetry. This project really made me put how I felt about nature into words. I had to try and think about the little things in nature that affect me personally on an everyday basis."
Backyard Wonderland
A beam of light breaks
through the thick clouds,
Illuminating the colors.
Reflecting the beauty into my spirit
bright green leaves, glossy from the dew
A rainbow of flowers
The maple trees pump out their sweet perfume
Birds chirp,
squirrels race in the branches
When I think of the word utopia,
this is what comes to mind
Complete harmony
Who knew my backyard
was this beautiful?
Poetry: "The World Through My Eyes" by Breanna, age 18 and Elizabeth, age 31.
This poem was the result of an interactive process between teacher and student in a creative writing class in high school.
Writing this poem, made Breanna "think of all the things around me & all of the times I've been in the woods & actually felt calm & relaxed. Working on this just made me realize how people take advantage of the world & don't see the beauty that's right around them."
The World Though My Eyes
Water falls from the branches of the tree above my head.
I try to dodge the little, cold droplets but when I move, another falls,
as I hear the crunch of sticks and dried leaves beneath my feet.
I try not to leave a dent in the delicate ground.
I look up and the branches fight for space above my head.
The air whips them,
and more droplets fall as I walk below,
enjoying this captivating world.
I whip my head to the left,
adrenaline pumps through my veins,
but I calm down.
The intruder is only a little ground squirrel.
I move forward, stepping over fallen leaves and broken branches,
only to come upon an old warehouse.
Beautiful, beaten, battered,
revealing it's old, crumbled walls.
The world radiates beauty,
causing my shallow breaths to get caught in my throat.
The views are different in the new places I wander.
The forest, my stunning captivator, awakens as I stumble upon new, exquisite sights.
August 20,2016