Alexis, age 9; her sister, Madeline; her friend, Lauren; and Alexis' & Madeline's Mother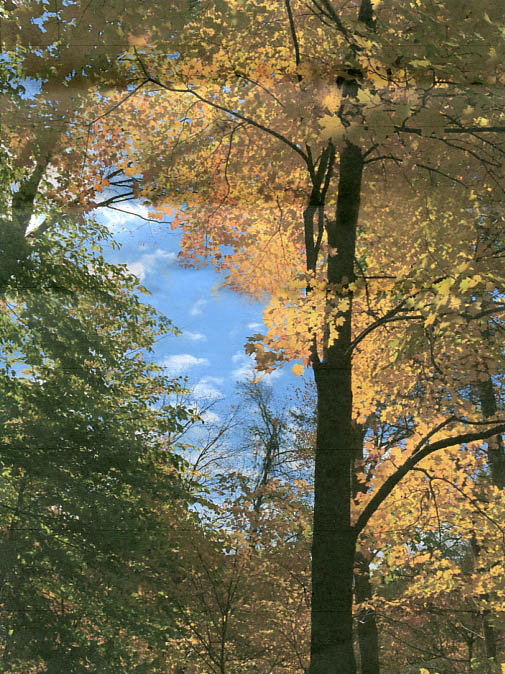 Our team resides in a small New England town brimming with majestic oaks and maples, forest-green shrubs, and quaint ponds just big enough for a rowboat or two. It's commonplace to look out the window and see a flock of turkeys parading across the lawn, a family of deer grazing in the woods, or a snapping turtle building a nest to lay her eggs. Each year we experience the beauty of the four seasons – the pristine snow-covered grounds of winter, the colorful blooming trees and flowers of spring, the deep emerald greens of summer, and the red and gold leaves in autumn. The attached photograph depicts one of the mesmeric scenes of nature that easily come to mind when we think about the wonder of nature.
The sights of nature all around us are so breathtaking that we often don't think about how nature impacts our other senses. We wondered: how does nature feel? How does nature smell? How does nature sound? To more fully experience nature with our other senses, we lay in the grass with our eyes closed, silent and still, on a beautiful autumn day. We lay there for 10 minutes so we could fully experience the invisible aspects of nature.
Both generations had similar experiences with the invisible parts of nature. With our eyes closed, we could feel the crunchy grass beneath our backs, the cool breeze on our arms, and the warm sun beating down on our faces. We could smell the aroma of the dry grass. We could hear the wind rustling the leaves still on the trees. We could also hear the soft "pops" as the wind dropped acorns from the trees onto the hard stones on the ground. One of us felt the gentle touch of a leaf as the wind carried it off a tree and onto her chest.
One of the commonalities between many of these experiences was the role of the wind. Wind is responsible for creating the breeze that sways the branches and leaves. Its cooling abilities help us keep more comfortable in the sun. It creates music in the air. Before our project, we had never really thought about the role of wind. However, now we have a greater appreciation for the role of the wind in nature.
[First Place Mixed Media (Essay & Photo), Sense of Wonder]