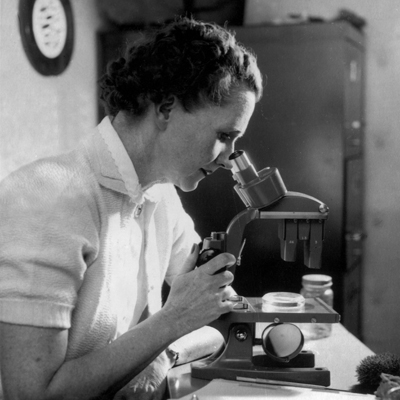 Rachel Louise Carson was born May 27, 1907, on a farm in Springdale, Pennsylvania. Rachel's mother encouraged her interests in nature and in writing. Her first published story "A Battle in the Clouds" appeared in St. Nicholas magazine when she was in fourth grade.
At Pennsylvania College for Women (later Chatham College) Rachel switched her major from English to biology when inspired by an outstanding biology teacher. She graduated magna cum laude and was awarded a full scholarship that enabled her to attain a master's degree in marine zoology from Johns Hopkins University in Baltimore.
The subsequent death of her father brought increased responsibility for her family and caused a period of financial struggle that ended when she was employed as a writer/editor and finally Editor-in-Chief for the U.S. Department of Fish and Wildlife's publications department.
Under the Sea Wind, her first book, published in November of 1941, expressed her life-long fascination with the sea as did her second book, The Sea Around Us, which became a best-seller and established her worldwide fame as a scientist and writer. Its earnings gave her the financial independence to leave Fish and Wildlife and to build the cottage on the coast of Maine near Booth Bay Harbor. It was there that she began to write The Edge of the Sea. The Maine environment and friendship with her neighbors, the Freemans, became a source of joy and strength that sustained her through the deaths of her mother, her niece, Marjorie, followed by her own ill health and the adoption of Marjorie's young son, Roger.
Her dismay and outrage at the impact of pesticides on human and environmental health forced her to undertake the formidable task of alerting the public. Despite learning that she had breast cancer in 1960, she continued the meticulous research that resulted in publication in 1962 of Silent Spring – the lucid and compelling book that inspired the environmental movement. Paul Brooks, her editor and the author of The House of Life, a splendid Rachel Carson biography, tells us that she made a "…book about death a celebration of life."
Although she was attacked and ridiculed by the pesticide industry, her research and conclusions were sustained by a Science Advisory Committee appointed during the Kennedy administration. State legislatures responded by introducing pesticide-regulating legislation. Silent Spring was translated into more than a dozen foreign languages. Rachel was inducted into the American Academy of Arts and Letters and received many other honors. On April 14, 1964, she died in her home in Silver Spring, Maryland.
Her experience as Roger's mother, her fondness for young people and her awareness of the need to preserve children's love of nature resulted in Rachel Carson's last work, The Sense of Wonder, published posthumously.
Rachel Carson wrote a pledge for protecting the Earth, and the wildlife that live with us. You can take Rachel Carson's pledge to improve the way we treat the environment:
"I pledge myself to preserve and protect America's fertile soils, her mighty forests and rivers, her wildlife and minerals, for on these her greatness was established and her strength depends."
—Rachel Carson, 1946