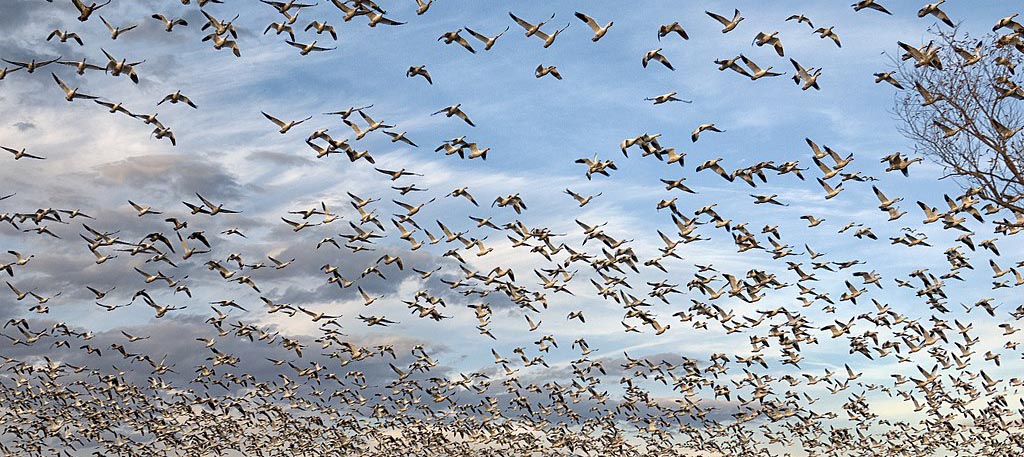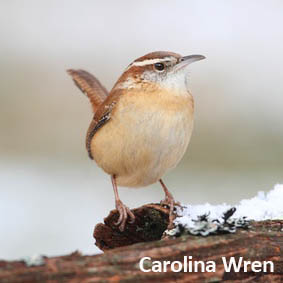 Dr. Chris Whelan (Footnote #1), first speaker at the 2018 Rachel Carson Open House on May 5th dazzled our audience with an eloquent, broad-ranging, fact-based presentation including recent scientific updates on avian ecosystem services (Footnote #2). In answer to a question from the audience, he indicated that the Migratory Bird Treaty Act (MBTA) makes it unlawful without a waiver to pursue, hunt, take, capture, kill, or sell birds listed as migratory birds. This statute has become less bird-protective under policy changes mandated by the U.S. Interior Department's Secretary Ryan Zinke. Below is RCLA's perspective on those changes and why speaking out to help birds is needed from all of us, now as never before!
MBTA Loses Liability Provisions
In December 2017, Interior Secretary Zinke announced that as of 2018 under the 100 year old international Migratory Bird Treaty Act (MBTA), US corporations and individuals can no longer be held responsible and liable for creating a hazard known to kill birds, if that is not the hazard's specified purpose.

The MBTA, a landmark bird protection law, had been supported by US Presidential administrations since the 1970s and has helped keep migrating birds from landing on life-threatening oil waste lagoons, among other benefits. (Footnote #3).
They Say "No!" to Ending Corporate Liability for Killing Birds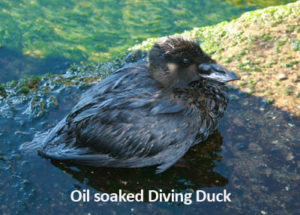 In early 2018, former Interior Department officials from both Republican and Democratic presidencies wrote to Interior Secretary Zinke, strongly objecting to the Administration's new policy gutting MBTA liability provisions that were intended to protect migratory birds. Liability for bird deaths could lead to fines, thus the act was used effectively to convince corporations to institute bird safety measures.
Reduced protections for migratory birds contained in recent legislation put forth by U.S. Rep. Steve Scalise (R, LA) generated objections from an unexpected source — an organization representing veterinarians whose work is keeping birds and other animals healthy. The normally staid American Veterinary Medical Association voted to oppose an amendment to the proposed Scalise legislation granting lack of liability for bird deaths to energy companies. (JAVMA, v. 252, #11, June 1, 2018)
Is Cruelty to Baby Birds Endorsed By the Trump Administration?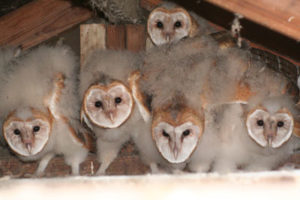 In April 2018 the U.S. Interior Department issued an MBTA-related opinion in the form of a guidance to Fish and Wildlife law enforcement officials (Fears, D., & Grandoni, D., "Interior guts landmark law protecting birds," Wash Post, 6-16-18). That document appeared to condone destroying baby barn owls, members of a species that is known for providing important avian ecosystem services (Footnote #4). The document is reported to have stated: "A person who destroys a structure such as a barn knowing that it is full of baby owls in nests is not liable for killing them. 'All that is relevant is that the landowner undertook an action that did not have the killing of barn owls as its purpose.'" (ital. direct doc. quote) (Fears, D., & Grandoni, D., "Interior guts landmark law protecting birds," Wash Post, 6-16-18).
Why Barn Owls Matter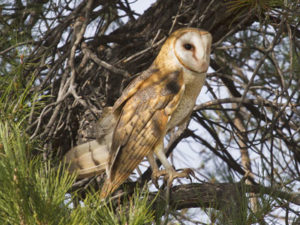 Barn Owls are a species whose predation on pest rodents has been celebrated for helping agriculture, conservation and disease control worldwide. Reductions of rodent numbers without use of toxic chemicals due to the presence of barn owls and other owl species have been reported for various field crops (wheat, sweet corn, alfalfa, clover, vetch and oats) as well as for date farms in Israel and Jordan. In Chile "nest boxes for barn owls were deployed successfully to control the rodent reservoir for hantavirus syndrome." (Why Birds Matter, eds: Sekercioglu, Wenny, Whelan, 2016) In Maryland a new compost generating facility recently announced the use of predator (barn owl) nest boxes to control rodent populations (pers. comm.). We object to the Interior Department's official guidance document reflecting MBTA's reduced avian protection cited above for condoning animal cruelty as well as for appearing to put up with the senseless loss of barn owls.
Our Long-Term Links to Birds
Birds have inspired our cultural endeavors in art, music and literature. They are essential components of ecosystems in most places on earth. In the US alone there are over 45 million bird enthusiasts responsible for over 860,000 jobs and over $85 million in economic activity. (Why Birds Matter, eds. Sekercioglu, Wenny, Whelan, 2016)
Further as Dr. Whelan reminded us on May 5th, "Birds and nature have intrinsic value." We need to understand them "with the ultimate goal of better decision-making that improves human lives while conserving the nature that supports us." (2018 Rachel Carson Open House)
We of RCLA join with others who care about birds in objecting to the 2018 MBTA policy developed under the Trump Administration and call on Interior Secretary Zinke to reinstate corporate and individual liabilities for migratory bird deaths as soon as possible.
We could be losing birds and the ecosystem services they provide due to an ill conceived, mistaken, objectionable Administration policy unless liabilities for bird killing by individuals and corporations under the MBTA are restored.
What Can You Do?
As a friend of birds and RCLA, you can decide to take action against lack of liabilities for killing of migratory birds under environmentally hazardous practices by corporations and individuals sanctioned by the Trump Administration's unfortunate reinterpretation of the MBTA. You can:
Contact Interior Secretary Zinke with your objections to the present MBTA policy regarding migratory birds

(Footnote #5)

;
Contact oil, coal and other energy companies and ask about how they plan to protect migratory birds from hazardous threats incurred by their industry;
Donate to RCLA so that we can continue to help educate the public about protecting migratory birds: Mail checks to:
RCLA
11701 Berwick Rd.
Silver Spring, MD 20904
Thanks in advance for supporting RCLA and for passing this information on to friends and relatives.
Appreciatively,

Dr. Diana Post, President RCLA
(Footnote #1) Christopher J. Whelan, PhD, is an Evolutionary Avian Ecologist, with broad interests in avian biology including the functional roles that birds play within ecosystems. He has been associated with the University of Illinois at Chicago since 1991 and is a Research Associate with the Field Museum of Chicago. He is a co-editor of Why Birds Matter: Avian Ecological Function and Ecosystem Services, 2016, U of Chicago Press.
(Footnote #2) A summary of Dr. Whelan's May 5, 2018 talk at the Rachel Carson Open House is being prepared for posting on the RCLA web site.
(Footnote #3) Under past US administrations (when corporate liabilities for bird deaths existed) the MBTA had been used to successfully convince oil producers to cover exposed crude oil waste pits with nets, thereby protecting migratory birds from landing on the surface and becoming covered with life-threatening material. (Grandoni, D.J., Eilperin, J., "Ex-Interior officials protest move to ease bird-killing restrictions," Wash Post, 1-15-18). Oil companies have been responsible for 90% of incidental [bird] killings prosecuted under the MBTA. Oil waste pits that birds mistake for ponds, unless they are covered with netting, are responsible for 500,000 to 1 million bird deaths per year. (Fears, D., & Grandoni, D., "Interior guts landmark law protecting birds," Wash Post, 6-16-18).
(Footnote #4) Avian ecosystem services from wild birds (reported by Dr. Chris Whelan) are provided at no charge and are beneficial to the public. These services should qualify birds, including barn owls, for protection due to human self interest alone, if for no other reasons.
(Footnote #5) Contacts for Interior Secretary Ryan Zinke.
By Letter:
Secretary Ryan Zinke
US Department of the Interior
1849 C Street, NW
Washington, DC 20240
By Phone: 202-208-3100
Press 3 for the Secretary of the Interior's office.
You then have the choice of: Speaking with a staff member, or Leaving a recorded message.
By Email: http://www.doi.gov/contact-us
You will find a box where you can write in your comments
Address them to Secretary Ryan Zinke
07-03-18