Contents: I) Introduction, II) Descriptions of Individual Winning Entries
I) Introduction:
Entries to this year's contest described in words and pictures the wondrous ways in which people ranging in age from 2 to 85 years old celebrated nature.
See individual descriptions for details (Section 2)
A theme in several of this year's winners was pollination and the amazing role of bees in the process.
The Sense of Wonder/Sense of the Wild essay from the intergenerational team of Lauren and Holly, "Bees: Essential to Life on Earth" described bees as insects that we "depend on for our fresh food and ultimately our lives." It ended with the following caution, "Next time you're about to kill a bee, think twice…"
A Sense of Wonder/Sense of the Wild photo entry, "Making a New Friend" came from the two member team of Ellie and Lisa. The back story to this entry is about a mother and daughter becoming more appreciative and less fearful of bees while sharing the experience of being out in nature.
A Sense of Wonder/Wild entry in the mixed media category is from a team comprised of our oldest participants Barbara (84) and Ann (85), a younger adult Laura (33) along with pre-school age children Anika, Atara, Porter, and Noa (3-4). It was developed from a project by the adults for introducing children to stories about beneficial insects. It resulted in a photo of two participants appreciating a flower and a poem in celebration of bees.
Three winners in the written entry category express the joy and delight that their intergenerational team members associated with various natural areas. They include two poems, "Sense of Wonder" and "Lands of Mystery", as well as the essay "True Natural Beauty".
A Sense of Wonder artwork entry, "Butterfly Window" is from a team with our youngest participant, Gabriel (2), his cousin Graham and his Aunt Theresa. It shows a creative way for young boys to have fun and celebrate butterflies.
A surprising entry in the Sense of Wonder/Sense of the Wild artwork category was an extraordinary mural that came from a great distance and was submitted by the team of Naledi and Nicky as well as 47 others. The mural "Tofo Bay Diversity-Celebrating Nature in Africa" was created in Mozambique and produced as an intergenerational, interracial project.
We at RCLA send thanks to all contributors. We feel very privileged to have received these entries and deeply appreciate the various appealing ways that the participants celebrated the natural world all around us.  Their expressions of wonder give us hope for the future.
II) Descriptions of Individual Winning Entries
#1 Sense of Wonder (Essay) Winner "True Natural Beauty" From Briana and Catherine
A mother/daughter team contributed nature-related concepts and experiences to this essay. Daughter Briana is the author. Here are excerpts:
"All around us there is a beauty that is more natural and beautiful than anything the media can produce…It is nature"
"My (Briana) favorite moments in nature are when I take a walk on a trail through a forest, sit on a rock and just take in all of the beauty and peace of nature."
"My mom's favorite moment in nature was in the Alleghenny Natural Forest surrounded by beautiful trees, and wildflowers. She was amazed to see the animals living there."
"No matter what age you are, you should have a true sense of wonder for the thing that is as close as your backyard."
#2 Sense of Wonder/Sense of the Wild (Essay) Winner: "Bees: Essential to Life on Earth" From Lauren and Holly
This essay describes bees as "absolutely incredible…vital to life on earth" It further states "We depend on these insects for our fresh food and ultimately our lives." The essay predicts that "without help from bees pollinating our fields and crops, the Earth would go through major changes." It ends with the following caution, "Next time you're about to kill a bee, think twice…"
#3 Sense of Wonder (Poem) Winner "Sense of Wonder" From Sydney and Patrick
This poem presents a shared intimacy with nature using imagery of the senses to transport the reader. The authors succeed in conveying a moment of liberation and inspiration as well as a desire to protect the "purity" of nature.
#4 Sense of Wonder (Poem) Winner "Lands of Mystery" From Katrianna and Kathleen
In this poem Katrianna and Kathleen describe a series of natural scenes evoking mystery and awe, as well as a sense of history and continuity. It beautifully portrays the ongoing connection among all living things.
#5 Sense of Wonder: (Mixed Media) Winner From Barbara, Anika, Atara, Porter, Noa, Ann and Laura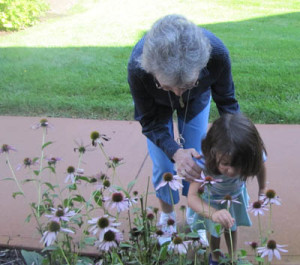 The Honey Bee
Honey bees fly in trees,
And they land on the leaves.
There are many different types~
But most have yellow and black stripes.
Bees make very good honey,
That's yummy in our tummy.
There's a Queen Bee, but not a King,
Be careful ~ because she can sting!
They make a buzzing sound,
And can be found all around!
This combination of a poem, "The Honey Bee," and a photograph, "Smelling the Coneflowers" make up the prize winning 3-generation entry in the mixed media category. Both originated from an assisted living facility for seniors during and after a storytime session for a class of preschoolers, who regularly visit the residence as part of a joint program. The mixed media project began with the "grandmas," reading the children stories about insects-to overcome negative attitudes about insects. The children selected the honey bee as a favorite insect, and a poem and nature walk followed. The photograph captures a moment of shared delight experienced by a grandmotherly senior and a tiny child as their nature walk brought them to a cluster of coneflowers. The children learned that insects can be valuable and that bees can make honey. The poem and photo were a team effort by the pre-schoolers, the "grandmas" and a younger adult.
#6 Sense of Wonder: (Photograph) Winner: "Making a New Friend" From Ellie and Lisa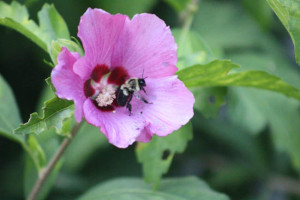 After finding nature walks to be stress-reducing, the mother of this intergenerational pair invited her 13 year old daughter to accompany and take photographs-thus combining her own enjoyment of the outdoors with the daughter's hobby of photography. Noticing that they were avoiding a large flower in their yard due to their fear of being stung by the bees it attracted, the mother suggested that the girl photograph the flowers and the bees. After some reluctance the girl agreed to give it a try. The strategy proved effective and resulted in a number of photographs, including this dynamic one, "Making a New Friend," showing a bee leaving a hibiscus flower-and both team members developed a new, less fearful perspective on bees.
#7 Sense of Wonder/Sense of the Wild: (Artwork) Winner: "Tofo Bay Diversity – Celebrating Nature in Africa" From Naledi, Nicky and 47 others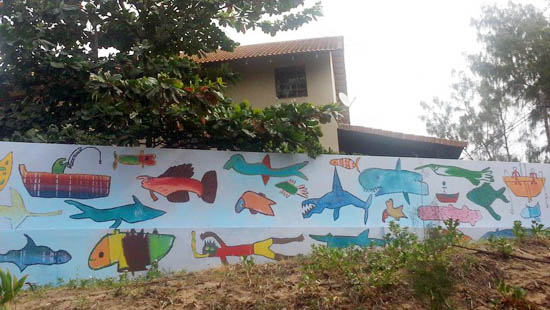 This exuberant and fanciful, brightly-colored outdoor mural entry comes from Mozambique. It is the result of a 4-day-long, joint family-school, intergenerational and inter-racial project, created to honor World Oceans Day. The mural celebrates the diversity of life found in the ocean. In all, 47 people, including professional artists participated in this project. The mural contains approximately 60 individual illustrations. In her description of this contest entry, Naledi the 11 year old team member wrote, "Students at my school worked with two artists to develop the ocean mural for our family's wall. The adults helped us put the outlines on the wall and we coloured the pictures. After doing the art work we celebrated on the beach with kids from other schools and shared nature experiences with them. It was so beautiful. We live in nature-but sometimes we forget to celebrate it."
#8 Sense of Wonder: (Artwork) Winner: "Butterfly Window" From Gabriel, Graham and Theresa
This award-winning project started with a discussion about butterflies and caterpillars among two young cousins aged 2 and 8 and the mother of one of them, an artist, who is the third member of their intergenerational team. The boys then did free form-painting on several sheets of paper. Those sheets were next cut into butterfly-shapes by their mother/aunt. The boys created the final design on a window frame. The 8 year old has been interested in butterflies since his preschool days, when he helped his family grow milkweed in their garden for monarch butterflies.
January 15, 2016