In My Forest
By Vedika, age 13, and her Father
RCLA Comments: Nature's power to liberate the spirit is celebrated in this joyful poem. It is an enduring memento of the trip Vedika's family took from their home in India to the Maasai Mara in Kenya to mark their daughter's birthday in a stunning green area. There they had a feeling of becoming one with Nature – "What we truly are and were always meant to be."
                                        In my forest, the trees grow mighty tall and almost kiss the sky,
                                        In my forest, I have never heard a shot fired or any animal cry,
                                        In my forest, I sing aloud and am free like the birds,
                                        In my forest, I know for sure that all my animals and birds have heard,
                                        Knotted and entwined with the lush foliage and vines
                                        The heart of the forest and mine have forever aligned,
                                        The animals are my people and the rivers my guiding roads,
                                        I know for sure new doors will open and I'll discover my very own roar,
                                        In my forest, the leaves whisper my name,
                                        In my forest, I am eternally changed and will never be the same,
                                        In my forest, the sound of nature is music to my ears,
                                        In my forest, I forever know NO fears!

The Rainbow of Life
By Camille, age 9 and her Grandmother, age 75
RCLA Comments: This poem bursting with closely and colorfully observed wildlife is an enchanting and life -affirming rhapsody of wonder. It came about following the visit by a young girl from California to the Galapagos Islands – a place her father (recently deceased) had loved.
When my father died, the world lost its color
All that remained was a thick, oppressive grey, surrounding me.
My vivacious, optimistic, joyful father
Took all the brilliant colors with him when he left our world.
Then one day my mother told me we were going on a trip
To a place my father had traveled to and loved.
Why bother, I said, knowing the heavy fog would follow me,
But we traveled all day and night to a boat in the middle of nowhere.
The first day, we snorkeled on the ocean floor.
I glimpsed a purple octopus frantically darting home,
A white chested penguin rocketing through the water,
A slippery brown fur seal expertly turning somersaults,
And a yellow-brown chocolate chip sea star patiently waiting for dinner to drift by.
The next day, I looked up instead of down.
Unfathomable birds soared through the sky, as if mocking us, the land-locked.
Never had I seen such a comic azure as the blue-footed boobies,
or such a proud red as the puffed-up scarlet chests of the frigate birds,
While statuesque charcoal grey marine iguanas sunned themselves on volcanic rocks below,
And green-brown tortoises lumbered by, ignoring the circus in the sky.
The third day a pod of sparkling silver dolphins greeted us Good Morning by
synchronously jumping waves.
On land we wandered upon a flock of pink flamingos honking Hello in a lagoon,
Yellow and red sally lightfoot crabs scurrying between crashing waves,
And a white-washed skeleton of a beached whale who no longer ruled the sea.
On the final day of our journey, just a our boat passed the Equator,
The afternoon rain lifted and the sky filled with a complete rainbow.
It was a sign from my father who had also loved the Galapagos,
Reminding me that my life would always be filled with color, even with him gone.
I love you, Daddy!
one small step into the woods, one giant leap towards nature
By Seonhgyun, age 15 and his Grandfather, age 78
RCLA Comments: A camping trip that begins in skepticism turns into a revelatory adventure for an iPhone-toting young person who accepts his Grandfather's invitation to discover wonder in the night sky. A Korean wilderness area is the setting for this heartwarming intergenerational story.
That exceptionally cold Winter, we found ourselves deep in the woods, our cheeks helpless against the chafing winds. It was just the two of us – my grandfather and me; no one else had been crazy enough to camp out in this weather. We rushed to unpack our belongings before sun-down, and soon enough, an enormous curtain of blackness came down on everything around us. My iPhone and Coleman lantern were our only sources of light.
What a change from the never-dying blur of neon lights from which I came! Indeed, this was my first experience of being blinded even to the ground before me, and I was terrified. I took recourse to the comfort of my tent, and to that of my iPhone. So all of that anticipation – all of that time and money spent on planning activities and buying cooking utensils – had been for nothing.
I've lit a campfire!" said my grandfather, jolting me out of my languor. "Come out and see the sky!"
What could possibly be so special about the sky? I thought to myself, as I dragged myself out of my sleeping bag. But having expected bleakness, I was struck by a rapturous sight. A coruscating cascade of star lights, emanating from a constellation of gemstones, had painted the sky a magical Indigo. One of those stars glided as quickly into sight as out of it, leaving behind a luminous trail of stardust. Another followed in its path. Then, as if on cue, yet another. This choreography of nature took me back in time – back to a time far before the Earth was acquainted with humanity. And with that, my frigid discontent had completely faded. It was an experience beyond the best of words.
"These starry nights were common in my day," said my grandfather. I could only imagine what it would have been like to see Nature the artist at work every night. She didn't seem to be on duty much where I lived. Indeed, to a vast majority of my peers, the scintillating work of her hands exists only in distant fantasies. The real sky, with its dust particles and artificial light. is too crowded for such beauty.
But it does not have to be thus. Mother Nature, I sense, is pleading to be brought back into our reality. It's up to us to make room for her, to reinstate her in the place which we have given away to greed. On that note, an exhortation to all in my generation: run out to your back yard, look up at the night sky. Detach yourselves from the frenzied cacophony of your urban life. Take the leap into the beauty of nature.
The Wonders of Our World
By Sean, age 17 and his Teacher
RCLA Comments: This powerfully descriptive essay, accompanied by a photo, conveys the immense awe of experiencing Alaska's Glacier Bay. Wonderful details—from tiny ripples to circling eagles—bring the scene to life.
Our ship cruises through the turquoise water of the Glacier Bay. My mouth gapes at the sheer size of the mountains lining the shores like the Great Wall of China—only taller. The clouds form a thick shield protecting the top of the mountains from my vision. Snow, still clean and untouched, sits on top of the mountains like a freshly washed bed sheet keeping the rocky, grey mountains warm. The view looks like something on another planet, or in a computer created movie scene. It could be a painting, with smooth brush strokes forming the rocky regions of the mountains. Seeing such a beautiful monstrous formation sends chills through me like someone is rubbing their cold hand on my back.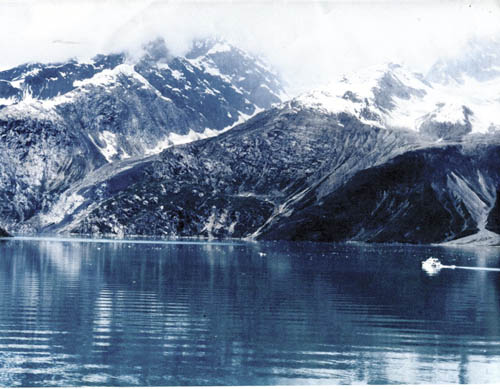 As I gawk at the beauty of mountains flowing down to the ocean, a white dot appears. It looks like the chunks of ice that speckle the blue glacier water of the fjord. I strain to see what it is from the balcony of our cruise ship. It is a boat, the size of a yacht, cruising past us—a rowboat next to the towering mountains. Ripples from the two boats spread across the almost motionless water. The rest of the water is still—like a mannequin modeling clothes in a store.
As the wind howls throughout the top of the ship, I am warmed by the rush of beauty flowing through me. I hold up my camera and the click of the shutter breaks the silence, but only for a second. The only sound is the wind; the mountains singing to welcome us to their home.
This is the most unforgettable experience I have had in my life. I have seen natural formations, but none like the glacier carved fjords snaking through the mountains. The scene is filled with turquoise water and the grey and white mountains surrounded by fluffy white clouds at the top. Eagles circle the sky looking for fish, seals rest on ice chunks floating by, and whales surface for air. Nature comes together in one place to form the natural beauty of Alaska. I have never felt such a connection with a place in nature like this. It is truly the last frontier—the place to experience the wonders of our world.